Ophthalmologic Studies Center of Saltillo (CEO) is the only clinic in Saltillo, Coahuila (Mexico) specialized in diseases of the eyes. At the top Laser Eye Surgery center in Coahuila, we have the newest technology in medical equipment and highly qualified doctors.
Ophthalmologic Studies Center is a committed and dedicated eye surgery center in Saltillo who guarantees the satisfaction of all our patients. Our team offers the best quality in the most innovative and safe surgical eye care procedures. We specialize in the diagnosis and treatment of any eye condition at any age, including Refractive or Corrective Surgery (LASIK), Cataract Surgery or Phacoemulsification, Corneal Transplant, Keratoconus, Glaucoma, Eyestrain, and much more.
Our Philosophy? The eyes are the point where soul and body unite. We ensure that our entire Laser Eye Surgery team in Coahiula has the highest professional level — most with national prestige. For more than 20 years, we have treated patients with kindess and respect — which are values very often diminished in our society.
Am I a Candiate for LASIK Eye Surgery?
Refractive Surgery or Corrective Surgery Requirements:
Many specialists prefer to operate from the age of 21, because at that age myopia or farsightedness fluctuates.
People with Myopia, Astigmatism, Hyperopia or Strabismus
Graduation: Depending on the level of graduation, the ophthalmologist determines if the operation is worthwhile, as it may be unnecessary or unreasonable to eliminate the use of lenses.
Stability of graduation: Graduation may change over time, so it is best to perform surgery when several years have passed with stable graduation.
It is essential to have healthy eyes, no retinal problems or other diseases or infections.
Apart from the factors above, the ophthalmologist is based on the medical history and a series of analyzes to decide if the operation is really or not a good option in your particular case.
Top Laser Eye Surgery Center in Saltillo
Our team of physicians is formed by ophthalmologists. laser eye surgeons and anesthesiologists with excellent skills and professionalism — and a group of nurses responsibles for ensuring patient satisfaction in each of the procedures performed in the clinic. During the last few years, professionals have been incorporated to constitute a balanced team that covers all aspects related to vision and ophthalmology.
At Ophthalmologic Studies Center of Saltillo, we are aware of the strong impact that our company can have in the community of Saltillo and its surroundings. We are strictly governed by the values established by the company, including its mission and vision, in order to guarantee a respect for human rights by promoting life and peace, leaving aside any kind of discrimination between our employees and our patients.
Contact OPHTHALMOLOGIC STUDIES CENTER OF SALTILLO, get a free quote
Reviews
I traveled to have eye surgery done at the CEO Clinic with very successful results, very happy with the service, very happy with the surgeons and with the clinic.

My whole life I´ve been suffering from "strabismus". After a fast and simple surgery in CEO my view and my eye got drastically better. Finally my life without glasses, thanks to Dr. Gonzalez Silveyra and Medical Nexus I can see the world in a totally new and better way.
Staff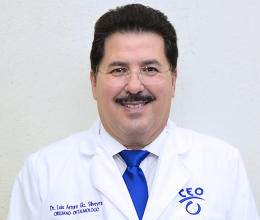 Luis Arturo Gonzalez Silveyra MD
Ophthalmology - Glaucoma, Refractive Surgery, Cataract Surgery
---
Comprehensive doctor, with human sense, ample knowledge and a vast experience in the area of ​​ophthalmology. He is the founder and director of CEO Laser de Saltillo and with more than 25 years in the practice, he has done more than 20,000 procedures.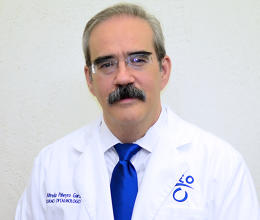 Alfredo Piñeyro Garza MD
Ophthalmology - Retina, glaucoma, neuroophthalmology
---
Comprehensive doctor, with human sense, ample knowledge and a vast experience in the area of ​​ophthalmology, specially in retinal surgery. He studied in the University of Hamburg and The University Marburg and the Baylor College of Medicine in Houston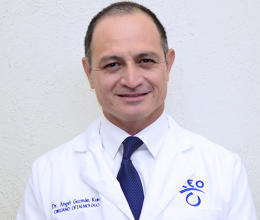 Angel Guzman Kuri
Ophthalmology - Cornea and Refractive Surgery
---
He's specialized in corneal transplants and other corneal procedures. He is one of the best corneal specialists in the region with more than 20 years of experience.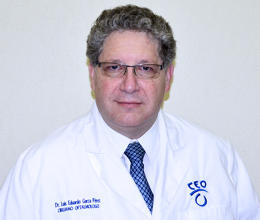 Luis Garza Perez MD
Ophthalmology - Glaucoma, Refractive Surgery, Cataract Surgery
---
With more than 30 years of experience in ophthalmology he is an experienced and talented doctor that will guarantee the best outcome for his patients.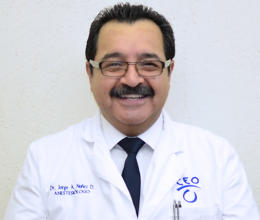 Jorge Arturo Nuñez Diaz
Anesthesiologist
---
With more than 25 years of experience in the anesthesiology specialty, he is the best doctor the clinic counts with. He speaks english and he always bond with the patients he works with.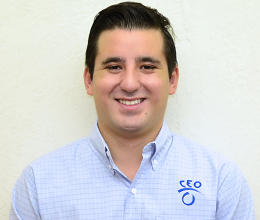 Luis Arturo Gonzalez Viera
International Patients Coordinator
---
With experience in business, logistics and patients care and public relations, he will assist patients in every step of the procedure. Since the first contact with the doctor to the post surgery care, he will be there for you.