"Today, as a specialist in ophthalmology, I enjoy happiness and I am proud of my career exceeding 20 years, as well as the 10 years of invested service I have completed at Bat?göz. We are using advanced technology for eye care health, rendering services by means of our experienced and concerned staff, sustaining growth by undersigning innovations and investments, and aiming to increase your confidence..." — Doctor Mehmet Söyler
Founded in 2004, Bat?göz started with a couple of colleagues yearning to provide services in the field of Ophthalmology, inside a medical center in the heart of Izmir. Bat?göz continues to be the leading eye care center for all major eye diseases — employing a team of over 250-personnel, a hospital and 3 branches solely in Izmir.
In 2015, our professional team at Bat?göz began to focus the attention on Istanbul — and the persistent hard work allowed us to open additional branch locations. As the leading eye care provider in Istanbul, we offer services in Altunizade (Anatolian side of the city) and Sefaköy. By 2020, our vision is to be the most prominent eye care provider both on a national and international scale by establishing a network of check-up & diagnostic centers — while keeping optimum patient and employee satisfaction as our primary goal.
Why Choose Bat?göz
Experienced and Well-Educated Medical Staff. We are at your service with physicians and surgeons who are highly educated from reputable medical facilities. Our doctors have produced medical literature in the field of eye health and surgery. Our technicians and nurses are well-educated and our entire team is consistently monitoring patient rights.
Powerful Background for HealthCare. All operation rooms and equipment in entirely furnished with a special ventilation and air freshener system that keeps ambient at the highest level of hygiene. Thanks to our technological background, all information on therapy, medicine, examinations and follow-ups either in-house or abroad are recorded and preserved in our databank.
Advanced Technology. We offer 3D imaging, Femtosecond Laser, Excimer Laser, Intralase IFS, and Argon Laser successfully at Bat?göz.
Affordable Eye Care. Many patients prefer our hospital and branch locations due to the success of our physicians and affordable price options. For surgical interventions, an entire procedure may be completed in less than 2 days (less travel expense).
Modern Medical and Concierge Services
Bat?göz in Istanbul, Izmir, and Bucharest are well equipped to serve International patients for any type of treatment required. Throughout the years we have gradually built on this model and are offering now a wide range of professional services in our hospitals through Medical and Concierge Services units:
24/7 operational and multi lingual call center
English speaking medical staff
Professional hostesses able to assist in Russian, German, Dutch, English, French, Spanish and Arabic
Full assistance and guidance by hostesses during checkups as well as operation and post operation checkups.
All documentation and medical reports in Russian, German, Dutch, English, French, Spanish and Arabic
Insurance intermediate services
Professional airport meet and greet services
Professional airport – hotel – hospital transfer services
Professional tourism team ready to assist with any type of tours and or accommodation throughout Turkey or Romania
Bat?göz Quality Management
TS EN ISO 9001 Quality Management System
TS 18001 Occupational Safety and Health Management System
TS EN ISO 14001 Environmental Management System
TS ISO 10002 Customer Satisfaction Management System
Treatment Options for Your Vision
At Bat?göz Hospital, we take pride in offering a wide-range of premium services that include:
Treatment of Eye Floaters: a non-invasive, pain-free procedure that can eliminate the visual disturbance caused by floaters.
Angiography: a cutting-edge method for examining the blood vessels in the eye using a special dye. It helps to better diagnose the patient's condition.
Laser Treatment: a painless procedure that can be applied to the outside of the eye to eliminate visual disturbance due to floaters.
ReLEx SMILE: a custom and bladeless high tech laser surgery which is known as the 3rd generation in laser vision correction.
Contact Lens: an alternative solution for glasses used for refractive disorders.
Keratoplasty: an operation in which the foremost transparent layer that is defected for some reason is changed with a healthy corneal tissue derived from a donor.
We also treat various diseases and conditions of the eye such as: Cataract, Glaucoma, Retinal Tears and Retinal Detachment, Uveitis, Oculaplasty, Strabismus, Dry Eye, Keratoconus, Presbyopia (gradual loss of focusing ability of the lens on near objects), Lacmiral Duct Occlusion (liquid that humidifies eye flows), Macular Degeneration, Blepharitis (inflammation of the eye lids), Conjunctivitis (Pink Eye occurs due to an inflammation or infection of the transparent membrane that lines the eyelid and covers the white part of the eye), Color Blindness (Daltonism), and Amblyopia (Lazy eye).
Contact BatıGoz Hospital, get a free quote
Staff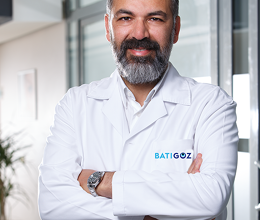 Dr. Mehmet SÖYLER Yönetim Kurulu Başkanı
---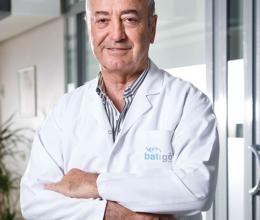 Prof. Dr. Erol YILDIRIM
---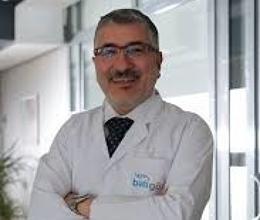 Prof. Dr. Volkan DAYANIR
---